THAILAND CULTURAL ORIENTATION COURSE
< !–- [et_pb_br_holder] -–>
For more information on this program, fill out the form and we'll get back to you!
XploreAsia provides the most comprehensive cultural orientation course in Thailand. Our course is taught by current and former teachers in Thailand. Our classes span a wide variety of essential topics such as politics, religion, business, society, and life in the Thai school system, to ensure that you are comfortable and knowledgeable in all aspects of Thai culture.
For participants who are planning to teach in Vietnam, we also have an online orientation which extensively covers all of the same topics from our Thailand course.
We know that there is as much to learn outside of the classroom as inside of it, which is why we also provide multiple active-learning excursions into the local community, where students experience a first-hand account of some of the social and cultural issues currently going on in the country.
Culture encompasses the identity, beliefs, values, and behaviors of a group. Culture also forms our expectations, and helps guide us when we try to communicate with different groups of people. Language, food, dress, and music are just the superficial aspects of culture that are easy to recognize, but the biggest parts of culture are the invisible rules and norms that hide below the surface and guide peoples' beliefs and behaviors.
XploreAsia's cultural courses explore both the surface, and the underlying components of culture to give participants an in-depth understanding that not only explains the "what," but also the "why," of different aspects of Thai culture.
Thai Culture & Politics
During the first week of the course, Michael Volpe Ph.D (founder of XploreAsia) provides an in-depth explanation of Thai society, including history, gender relations, ethnic groups, religion, and the monarchy. He offers valuable insight into Thai culture that comes from more than a decade of living and working in Thailand, and studying Thai politics and culture.
Thai Language
Participants will take part in a series of Thai language lessons taught by our experienced instructors. Classes will cover introductory greetings, ordering food, learning the numbers, asking directions, shopping and bargaining, etc. Our language classes will provide a firm foundation of helpful phrases for interacting within the local community, and in schools and classrooms throughout Thailand.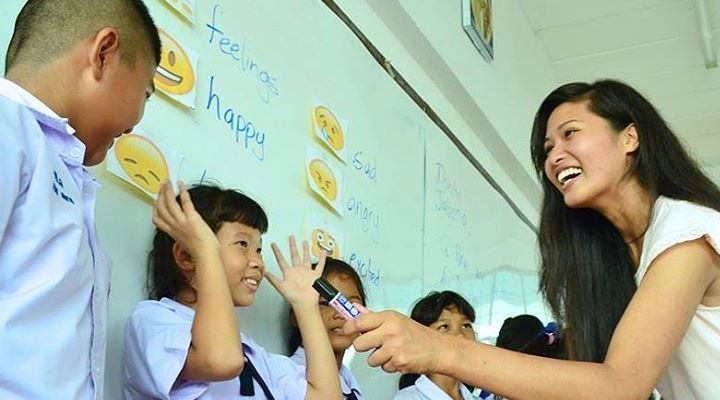 Our teacher workshop is designed to address culture shock by examining the underlying reasons why participants choose to live and work in Thailand. It's a chance to reflect on the challenges and experiences that have shaped us as individuals, what our core strengths and weaknesses are, and how those personal characteristics can help us overcome the daunting task of adjusting to day-to-day life in another country.
Teacher workshop is a chance to talk with other participants, and figure out what barriers to happiness might potentially bar you from dealing with culture shock successfully. By identifying and analyzing our potential barriers to happiness, we can craft solutions and techniques that will allow us to jump over these hurdles and get the most of out of our teaching adventures abroad.
ACTIVE LEARNING EXCURSIONS
Whether you take part in our TESOL course in Hua Hin or Chiang Mai, one thing is certain—you will embark on exciting, active-learning adventures within the local community.
Here are just some of the excursions that make up our cultural orientation:
Meditate with, and learn about Buddhist philosophy from a local monk
Visit beautiful local temples, take in the sights, and learn more about Thai culture
Visiting a local Thai market, learn bartering & get fresh produce
Participating in Muay Thai lessons
Participating in authentic cooking lessons
Attending a beach barbecue in Hua Hin or a traditional Lanna dinner in Chiang Mai